01

The Evergreen

Organic & Single Estate Superior Sencha | Loose Leaf

Regular price

Sale price

$16.00 USD

Unit price

per

Sale

Sold out

2-4 day delivery to USA & Canada

Free global shipping on orders $50+ USD
A vibrant and invigorating flavour profile accompanied by notes of fresh spring grass, evocative of youthful energy and a zest for life.
The delicate notes of asamushi-style sencha boast a refined flavour profile that sets it apart from its robust and bitter counterparts.
Organically grown in Shizuoka with passion and love by the Shigeta family for 15 generations. 
Our go-to muse for a dash of inspiration. A perfect equilibrium of caffeine and theanine to soothe the soul and sharpen the mind, inducing a sense of calm and concentration.
Very limited single estate production : each box is hand packed and individually signed by the tea producer.
Sustainable packaging : 100% plastic-free and fully compostable.
Share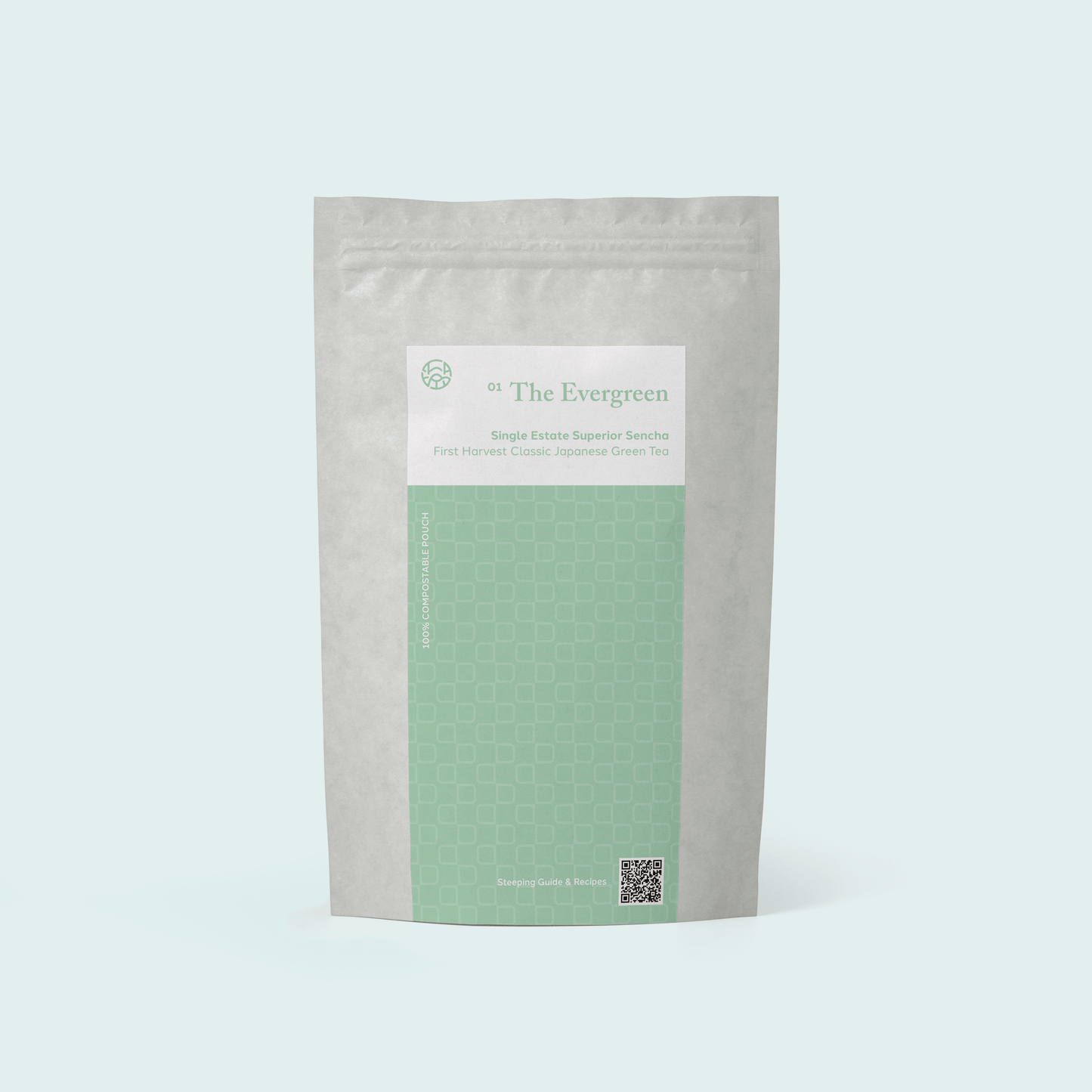 Specifications
Origin

Grown in: Shizuoka, Japan
Produced by: Shigeta Family
Altitude: 450m
Harvest : Picked exclusively from the first spring harvest that produces the most exquisite and coveted leaves of the year.
Tea cultivar : Yabukita
Type: Single Estate
Processing Method: Steamed (Japanese style)
Processing Method:
1. Steamed and dried immediately after harvest to maintain their freshness.
2. Asamushi style - 21 second light steaming for a has a lighter color and a more delicate flavour compared to other sencha varieties.
Flavour

Light and fresh, The Evergreen offers a classic green tea taste with a gentle smell of freshly cut grass.
Due to its Asamushi processing style, The Evergreen has a perfectly balanced. It can be steeped and enjoyed in a multitude of ways to extract or accentuate specific flavours.
Ideal for hot steep and cold brew
Flavour card :

○○○○● Aroma
○○○●○ Umami
○○○●○ Sweetness
○○○●○ Astringency
○○○●○ Bitterness
Organically Grown

Organically Grown : Pesticide, chemical fertiliser, additive and preservative free.
Raw production has been rewarded with the JAS (Japan Agriculture Standard) organic certification is officially recognised as equivalent to the USDA organic certification.
About organic certification : the raw tea (aracha) produced by the Shigeta family is JAS organic certified. However, as many farmers in Japan, they do not refine the tea themselves (process of removing dust, excessive stems and further reducing moisture). Even though, this doesn't change in any way the organic nature of the final material, the fact that the facility is not certified refrains the final product to be approved organic. The cost of purchasing their own equipment is out of reach, but we are exploring solutions to give this incredible tea the certification it deserves.
Health benefits

Full of theanine, an amino acid that induces relaxation and lowers anxiety while improving mood, concentration, and alertness.
Lower in caffeine than coffee and black tea : Sencha is about 1/3rd of caffeine compared to coffee and slightly less than black tea.
Rich in antioxidants, which help protect you from molecules called free radicals, which are compounds that can damage cells and cause chronic disease.
Helps reduce inflammation, boosts your immune system, and lowers cholesterol.
Sustainable Packaging

While offering a prefect protection to the tea leaves, our packaging is 100% plastic-free and compostable:

Inner Pouch:

1. Vegan, non-GMO, and Plastic-free.
2. Each component is certified compostable. They individually meet composting standards for industrial composting environments. Safe for Home Composting.

Standards and Certifications: ASTM D6400, EN13432. The zipper is additionally certified compostable by TUV.

Outer Box:

1. Made of 100% recycled, recyclable and compostable cardboard.
2. Printed with botanical ink

Labels:
1. FSC certified paper
2. Acid Free Paper
2. Printed with soy-based ink
Steeping Guide

The Evergreen is made in the Asamushi style, which is known for a light, fresh taste, and a little difference you make in steeping can bring out a range of flavors. 

Check out the tea steeping fundamentals →

Experiment with the amount of tea leaves, steeping time, water temperature and other variables, and find your own method for your perfect cup of tea.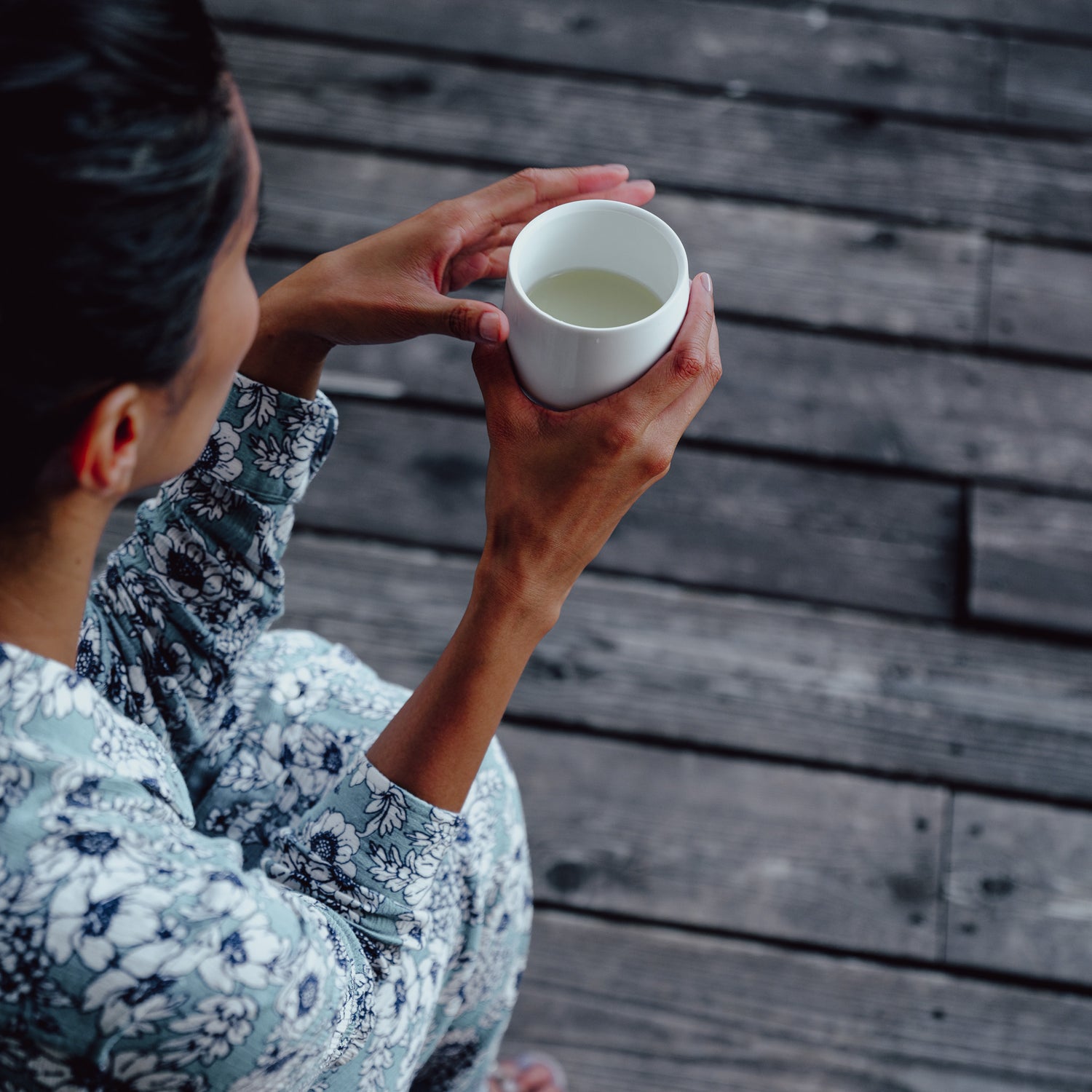 Elevate your day to new heights with a cup of liquid inspiration
Are you feeling bogged down by the humdrum of daily life? Do you need a boost to invigorate your soul and reignite your creative spark?
The Evergreen, derived from the finest leaves, contains activated theanine that triggers alpha waves in the brain, leading to a heightened state of concentration and focus. Whether you are seeking an energizing start to your day or a midday pick-me-up, this tea is the perfect way to recharge your mind and fuel your productivity.
But it's not just the activated theanine that makes this tea a standout. It's the ritual of taking a pause and savoring the experience, surrounded by the crisp air and soothing sounds of nature. It's the perfect opportunity to explore new boundaries of creativity and thought.
We believe in the power of this tea to inspire, invigorate and connect people. Whether you enjoy it solo or with friends, it's a moment to bond over shared passions and ideas. So, let's raise a cup of The Evergreen to elevate our day in the most exquisite way possible.
With love from the Shigeta family
The Shigeta family's 15 generations of tea-making prowess is a testament to their unwavering passion for crafting the most divine teas. Seiji and his son Takuya - 14th and 15th generation - are upholding this illustrious family tradition with aplomb.
Back in the 70s, Seiji went back to basics, eschewing conventional modern farming methods in favor of an organic approach. The result? A verdant garden that seamlessly coexists with the local flora and fauna, earning the coveted JAS (Japan Agriculture Society) organic certification as a result.
Whenever we venture to pay them a visit, we're always welcomed with open arms and treated like one of their own. Their hospitality knows no bounds, with a feast of the most tantalizing homemade soba and other delectable dishes laid out before us. The Shigetas are a clan that embodies the essence of kindness, and their tea is imbued with that very same warmth and heart.