05

The Regal

Organic Ceremonial Grade Matcha | Powder

Regular price

Sale price

$21.00 USD

Unit price

per

Sale

Sold out

2-4 day delivery to USA & Canada

Free global shipping on orders $50+ USD
A journey of taste with a depth of mellow umami, complemented by a delightful balance of sweet and vegetal notes.
Ceremonial grade:

the pinnacle of matcha quality hailing from Japan.

Product of Japan: Sourced from the fertile soils of the Kirishima volcanic mountain range in Kagoshima and skillfully stone-ground by tea master Koji Kagata in Uji, Kyoto - a culmination of nature's bounty and expert craftsmanship.
Certified organic by JAS - Japan Agricultural Standard - recognised equivalence by USDA Organic and EU organic.
Sustainable packaging : 100% plastic-free and fully compostable.
Share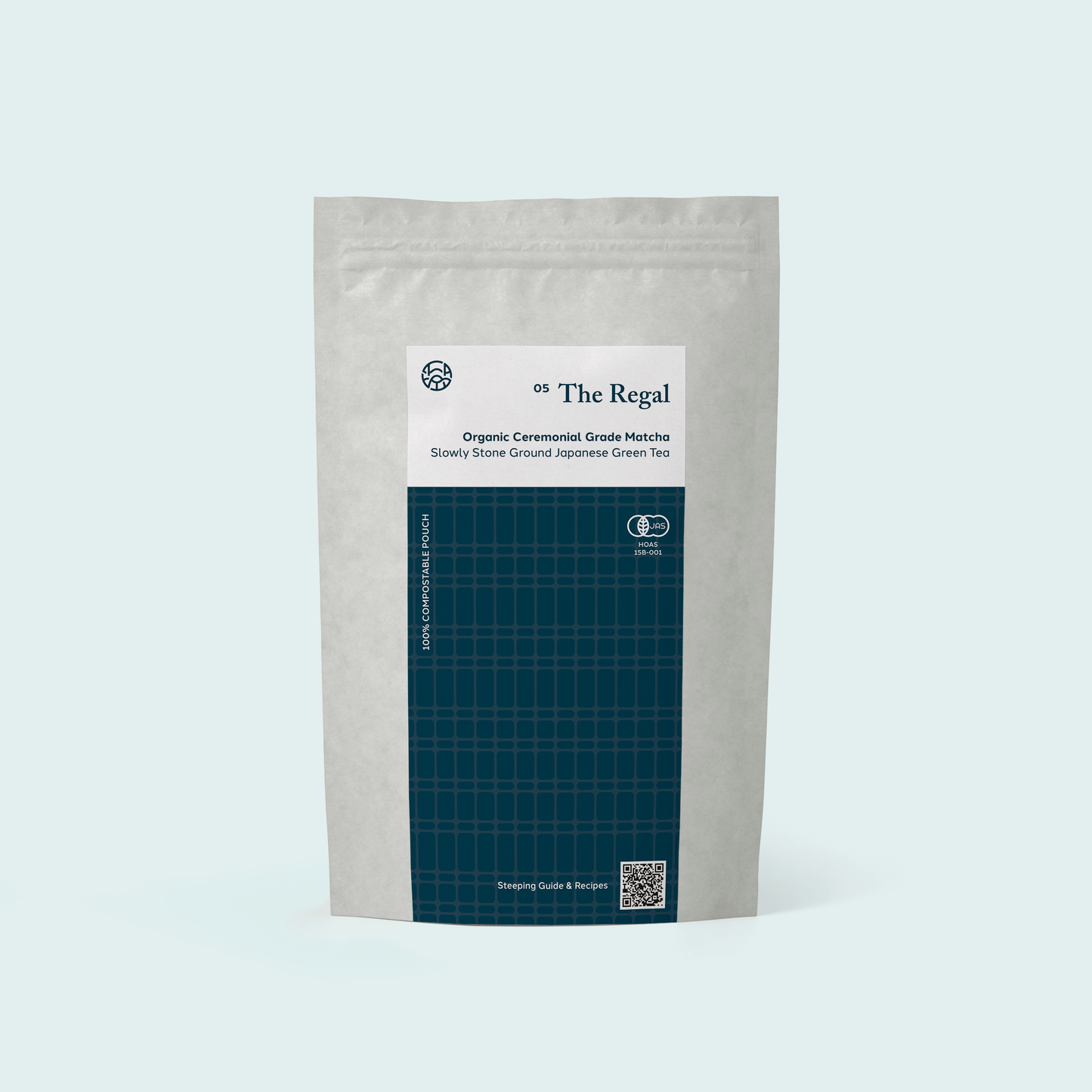 Specifications
Origin

Grown in: Kirishima volcanic mountain region, Makizono, Kagoshima (island of Kyushu).
Altitude : 500m
Shaded for 20 days before harvest.
Harvest : Picked exclusively from the first spring harvest that produces the most exquisite and coveted leaves of the year.
Blended and created by: Tea Master Koji Kagata.
Processing Method:
1. Steamed and dried immediately after harvest to maintain their freshness.
2. Slowly ground traditionally by Rishouen in a stone mill in Uji, Kyoto.
Flavour

Composed of tender first flush Tencha leaves, the leaves are shaded for 20 days before harvest – this increases umami and decreases astringency and bitterness.  
Deep and mellow Umami balanced with a delightful sweet vegetal flavour.
Flavour card:

○○○●○ Aroma
○○○○● Umami
○○○●○ Sweetness
○○●○○ Astringency
○○●○○ Bitterness
Certified JAS Organic

The Regal is labeled JAS Organic, which is the certification beholding the strictest standard of organic production in Japan.

JAS organic teas meet the organic requirements of the European Union, Switzerland, the USA, Canada, Argentina, Australia and New Zealand so they are considered organic in these countries without further testing.
Health benefits

Rich in antioxidants, it protects you from molecules called free radicals, which are compounds that can damage cells and cause chronic disease.
Helps reduce inflammation, boosts your immune system, and lowers cholesterol.
Boosts your metabolism while aiding digestion.
Full of theanine, an amino acid that induces relaxation and lowers anxiety while improving mood, concentration, and alertness.
Sustainable Package

While offering a prefect protection to the tea leaves, our packaging is 100% plastic-free and compostable:

Inner Pouch:

1. Vegan, non-GMO, and Plastic-free.
2. Each component is certified compostable. They individually meet composting standards for industrial composting environments. Safe for Home Composting.

Standards and Certifications: ASTM D6400, EN13432. The zipper is additionally certified compostable by TUV.

Outer Box:

1. Made of 100% recycled, recyclable and compostable cardboard.
2. Printed with botanical ink

Labels:
1. FSC certified paper
2. Acid Free Paper
2. Printed with soy-based ink
Steeping Guide and Recipes

The Regal has the perfect balance between elevated taste and playful versatility. You can enjoy it as a first-rate cup of tea such Usucha (light ceremonial matcha), or use it to take your lattes, pastries, and ice cream to the next level.

Check out the tea steeping fundamentals →
Add a touch of opulence to your day
This matcha boasts a deep and velvety umami flavor, paired with a sweet and verdant profile, making for the perfect combination of elevated taste and playful versatility. Whether you're in the mood for a premium cup of tea, or looking to take your lattes, pastries, and ice cream to the next level, this matcha is the ultimate indulgence.
But that's not all – you can rest assured that this blend is fully certified organic, so you can feel good about every sip. So sit back, unwind in this refined and sophisticated blend – the matcha connoisseur's matcha.
With every sip, you'll feel like true matcha royalty. So why not treat yourself to a taste of The Regal and rule over your taste buds like a true monarch?
Ruling from Kagoshima to Kyoto
This vibrant matcha is the result of tender first flush leaves harvested from the pristine slopes of the Kirishima volcanic mountain range in Makizono, Kagoshima. These leaves are carefully shaded for 20 days prior to harvest, imbuing them with their unique umami flavor while simultaneously reducing any bitterness.
The young and delicate leaves are promptly steamed and dried right after harvest to retain their freshness. Once sorted and de-stemmed, they become the raw material known as Tencha, from which our velvety jade Matcha is created.
In the ancient city of Uji, Kyoko, tea master Koji Kagata meticulously stone grinds the Tencha using traditional methods, producing a matcha of unparalleled quality.
Kagata-san is a second-generation tea master with over 30 years of experience in the tea industry. He was trained in the Way of Tea by his father and is now passing on his expertise to his son, Naoki Kagata, who will continue the family legacy of producing exceptional matcha.